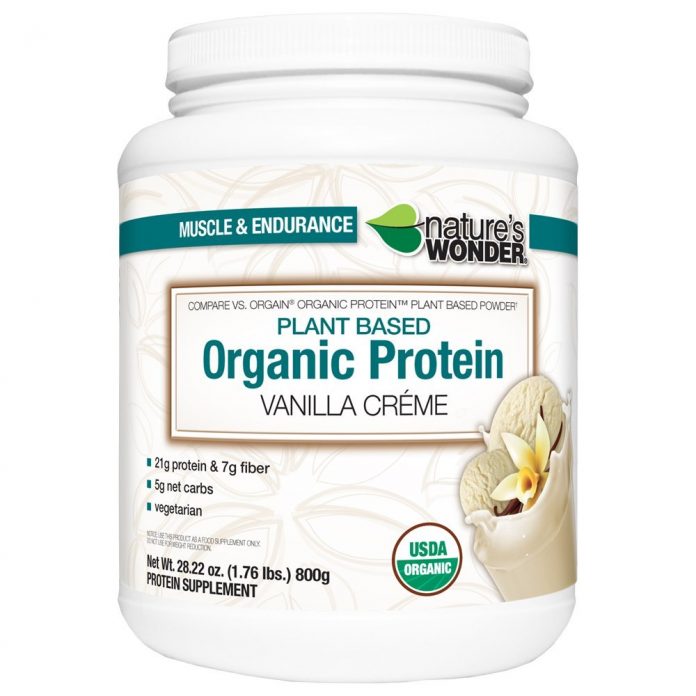 Buy This Item

amazon.com
Features
Product Dimensions: 5.6 x 5.6 x 7.8 inches ; 2.08 pounds
Shipping Weight: 2.2 pounds (View shipping rates and policies)
Domestic Shipping: Currently, item can be shipped only within the U.S. and to APO/FPO addresses. For APO/FPO shipments, please check with the manufacturer regarding warranty and support issues.
International Shipping: This item is not eligible for international shipping. Learn More
UPC: 859663007365
California residents: Click here for Proposition 65 warning.
Description
Nature's Wonder Organic Plant Based Protein Vanilla, Compare vs. Orgain® Organic Protein™ Plant Based Powder
User reviews
Although this protein drink mix tastes about the same as all the others I have tried - not good, not bad either, I like that the protein this contains is not based on whey, but on plants. I believe protein derived from plants is much better for you and is utilized much more readily than animal based protein. I also like that when using 2 scoops in water there are only 150 calories and 21 grams of protein. I use protein mixes mainly as muscle repair after a tough tennis match - especially singles tennis. I really work hard at the game and usually come home very spent with very tired muscles.I mixed up 2 scoops of this protein powder in some water and ice and made a smoothie. After my first taste I had to add some honey because it wasn't sweet enough to suit me. The addition of a couple of spoonfuls of honey really made it taste better. I will probably be adding some fruit and molasses to my smoothies from now on, but I wanted to get an actual taste of the product before adjusting the flavor. Overall I Iike it as much or better than many other protein drinks I have tried, and especially like that the protein comes from plants instead of animals.
I'm a senior and have been on a weight loss/exercise program for about 12 weeks now. When I started it amazed me how much muscle loss there has been over the years. I found that by supplementing with protein in the morning I had more endurance and was able to complete my daily routine. It really made a difference. Sometimes it's hard to find a good protein powder that not full of sugar. This one has 21g protein, 7g fiber and only 5g net carbs.When I started I used another brand and didn't like the taste, sometimes didn't even finish the glass. With the Nature's Wonder I find it very pleasant, smooth and blends quickly and well. I look forward to my morning protein smoothie. I especially like the vanilla crème because it takes the addition of berries or fruits better than the other flavors I've tried.There is a nice Organic Blend of Pea, Rice, Chia & Hemp and it sits well in my stomach with no gas or distress. When you're my age that is something your mindful of. I can't give you any of the technical talk about the plusses and minuses of protein types, etc. All I can say is that it's working for me and I like it.
Honestly I had high hopes for this one. It's plant-based, there are no artificial flavors, the sweeteners are common enough, stevia and rice syrup; and monk fruit extract, which may well be the fudge factor here because it's WAY sweeter than sugar. Basically, this stuff is too sweet. Even blended in 16 oz of liquid, it's gagglingly sweet. One scoop of powder in the same amount of liquid might be more palatable, but at the same time there's a weird aftertaste to it, that made me say, "Oh no, no, no," after the first sip. After the second, I poured the whole thing down the drain.Look, it seems like a good supplement if you're vegan, there's a lot of good stuff in here. And if you like your protein drinks really, really sweet, this might appeal to you. You may not be sensitive to any odd flavor. But at the price, a two scoop serving is really not all that cost-effective, in my opinion. You could probably do better.
21g of protein per serving and only 150 calories is a very good balance and this is plant-based protein, so it's easily digested. I have a drink shaker in which I use water and the two recommended scoops of this powder. It works fairly well, although I think the taste is a little off -- bitter and not sweet enough to be a drink I look forward to; rather, the taste is one I tolerate. Being chocolate, I could add it to a milk and banana smoothie but that would obviously add an animal protein to the mix. The texture is also a bit chalky but that's really no different from the other protein powders I've tried. The powder itself is finely ground and mixes easily, doesn't clump too badly, and there isn't a layer of sugar at the bottom of the glass.In short, this is a good nutritional supplement for extra protein but best consumed when added to several other ingredients to make it more palatable.
I'm really happy with the nutritional profile of this protein powder, I just don't like the taste. I find it bitter. I really liked the vanilla in this same brand - to me that one tasted like vanilla pudding, so perhaps my hopes were too high for this one. It doesn't really taste like chocolate to me. It looks like chocolate, but it tastes mainly bitter, and just a bit sweet.I usually don't find stevia bitter. I didn't find it bitter in the vanilla flavor, so I suppose it is the chocolate in this one? Anyway, I don't like it. I can drink it, but I'll stick to the vanilla flavor in this one.It easy to dissolve if you can shake it in a bottle, or use a wire whip. A silicon coated whip is the best - it will blend it as well as a blender, and is fast but makes very little mess. It does come with a scoop. I find that 2 scoops per 8-10 ounces of water is a bit thick. 1 scoop per 8 ounces works best for me.
This is a good tasting vanilla protein powder. I typically buy the premade protein drinks, but I like the protein powder to make smoothies with because it's easy to just place a few teaspoons of powder into the mix, & also because the price tends to be less than the pre-mades. I used a blender bottle to mix this & it wasn't completely smooth, but it still tasted good. A little bit of clumps but not chalky tasting like you sometimes get with mixes that don't tend to blend all the way.This is a pea protein based powder (others are whey protein). At current time of writing, it's priced very competitively for the size you receive. Other brands I've tried that are mixes were smaller containers & more expensive. It is sweetened with stevia. Try it in a smoothie with almond milk, strawberries in a blender. 🙂